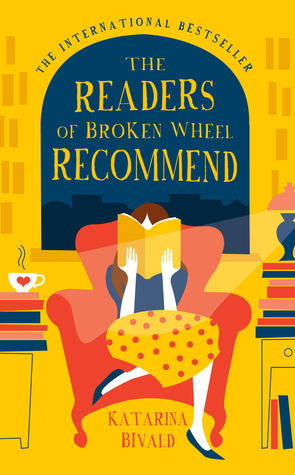 Warning: once you let books into your life, the most unexpected things can happen…
This is a book about books. All sorts of books, from Little Women and Harry Potter to Jodi Picoult and Jane Austen, from to Stieg Larsson to Joyce Carol Oates to Proust. It's about the joy and pleasure of books, about learning from and escaping into them, and possibly even hiding behind them. It's about whether or not books are better than real life.
It's also a book about a Swedish girl called Sara, her elderly American pen-friend Amy and what happens when you land a very different kind of bookshop in the middle of a town so broken it's almost beyond repair.
Or is it?
The Readers of Broken Wheel has touches of 84 Charing Cross Road, The Guernsey Literary and Potato Peel Pie Society and Chocolat, but adds an off-beat originality and intelligence all its own.
I saw the ARC of this book on Netgalley a while ago and requested it, but forgot to read it. I then saw a copy at work, and thought that it still came across as cute, and since I was in need of a lighthearted read to wind down from some more intense reading, I opened it up and began it the next day. It kind of strikes me as very similar to Charlaine Harris' novel style, only with books instead of creatures that want to eat you. I honestly don't know which formula I prefer!
This book could certainly never be accused of being heavy, despite it being nearly 400 pages long. I'd put this in the fluffy chick-lit kind of category, though it is very obviously intended to be for and about bookworms. At first, I was a bit hesitant to get too into it, since I've picked up and dropped quite a few easy reads over the last week or so, but something about this kept me going. Perhaps it was the author's thinly veiled swipes at "idiot America" and small town politics. Perhaps it was the warm-heartedness of the book as a whole. Maybe it was because of the bookish discussions, though I disagreed with many of the author's opinions on classic literature. But I think it was mainly because of me finally finding a chick-lit heroine who didn't make me want to scratch her eyes out.
Sara is a girl who lives her life almost entirely in the world of books, quite literally with her nose constantly in one. She worked in a bookshop, though has been recently made unemployed by its closure (been there, done that… thank god I'm back in one now!) She's shy, quiet and very nervous around strangers, which I am as well. She honestly prefers books to people, which for the most part, I entirely understand.
The book is well paced and the translation is very well done. I do see some aspects of The Guernsey Literary and Potato Peel Pie Society here, but I don't think it was as well executed, as too many of the situations seemed too improbable and contrived. It was also extremely predictable, to the point that the moment the love interest walked into Sara's house, I knew what would happen. Though the darker side of Broken Wheel is discussed, it isn't really explored, such as the supposed meth lab in the abandoned school. It would have been good to have discussed that flip side, like Guernsey did, but it just skimmed over them to focus on a very idyllic view of small town America.
I think that this book would offend some of the more conservative readers, particularly Americans- so let's just say that if you're particularly religious or are contemplating voting for Donald Trump, give this book a miss. Bivald is very typically Swedish, and very liberal minded, and her shots fired at religious fundamentalism, racism, non-readers and general idiocy made me giggle. There be sex in this here town, but it's not explicit, more implied and thought about afterwards, which is generally how I prefer it.
Yes, it gets a bit saccharine sweet in parts, and for a fairly realistic novel, it gets a bit outlandish in parts, but the characters are loveable, the bookish references are fun and the overall effect is a good read. I don't think it's a particularly memorable book, but I definitely enjoyed it! I really want to open up my own awesome bookshop after reading this!
Thank you to SourceBooks for including me in their blog tour!
3.5/5 Stars
*This was sent to me as a review copy in exchange for my honest opinion.