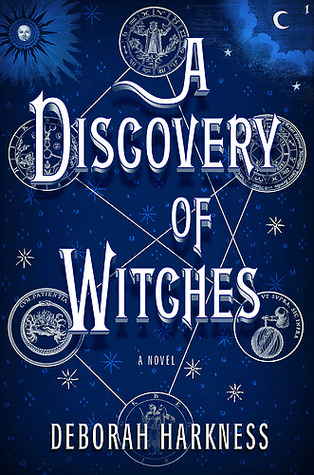 Deep in the stacks of Oxford's Bodleian Library, young scholar Diana Bishop unwittingly calls up a bewitched alchemical manuscript in the course of her research. Descended from an old and distinguished line of witches, Diana wants nothing to do with sorcery; so after a furtive glance and a few notes, she banishes the book to the stacks. But her discovery sets a fantastical underworld stirring, and a horde of daemons, witches, and vampires soon descends upon the library. Diana has stumbled upon a coveted treasure lost for centuries-and she is the only creature who can break its spell.
Debut novelist Deborah Harkness has crafted a mesmerizing and addictive read, equal parts history and magic, romance and suspense. Diana is a bold heroine who meets her equal in vampire geneticist Matthew Clairmont, and gradually warms up to him as their alliance deepens into an intimacy that violates age-old taboos. This smart, sophisticated story harks back to the novels of Anne Rice, but it is as contemporary and sensual as the Twilight series-with an extra serving of historical realism.
It seems this book is rather polarising; I've seen some hate it and some love it. I actually began reading this in February, on the train home from Melbourne, but I felt sick and thought that reading Anne of Green Gables would cheer me up more (and I was right). Then uni got in the way, so despite enjoying this book, it has taken me until now to actually finish it!
This is a pretty immersive novel, and at over 550 pages, it's a bit of a beast. You really do feel connected to the characters, and their flaws are displayed to the reader in a fairly realistic way. I enjoyed the tenacity of Diana, the main character, who discovers that her witching abilities are far stronger, and far more deadly, than she anticipated. Matthew, her vampiric love interest, is a dictatorial knobhead, to be sure. They quarrel and discuss their way through the book in a rather convincing way. My only qualm is that the timeline of the novel leaves a lot to be desired. It happens within the space of a month, making me concerned that their love is of the obsessive, dangerous kind, in the Twilight tradition of paranormal romance novels. I dislike this, and wish that Harkness had let their relationship develop for longer, say, stalling their eventual partnership and "marriage" until the final book.
I enjoyed Diana's abilities as a witch, woman and historian, but did resent that she really does do some bloody stupid things, and puts herself in unnecessary danger just because she wants to prove herself brave. She does this more and more as the book goes on, making me prefer her character in the first third of the novel far more than the end. Once they got to America, it was a bit of a slog to get through, since the action rapidly diminished. I do realise that Harkness needed to do it to set up the next two books, but I think some clever editing could have got the book down to 500 pages or less.
As for the history, which is deeply entwined with all aspects of this book… the history is why I kept going, despite my misgivings about the two main characters. Harkness has done an incredible job on this front, working with so many aspects of historical knowledge from alchemy to Darwin to Shakespeare. For any history nerd like me, this is a goldmine of awesome. This is why I will continue with this trilogy (well… at least the second book, so far) and why I think this book is pretty good. I like that the main
character, for all her misguided tenacity and cluelessness, was a history professor, and damn good at it. It was refreshing and something a bit different for a paranormal romance character. I also liked that it wasn't some wishy washy subject, like say, the history of hot pink lingerie, but alchemical manuscripts. You don't fuck with a chick who understands alchemical manuscripts. Look at that thing! You don't mess with someone who can make sense of that.
The prose was well written, switching from first to third person narration, which seems to have bothered some other reviewers, but I honestly didn't mind it. It was kind of nice to get out of Diana's head for a bit and see what was going on elsewhere. I didn't find it jarring, and it didn't switch too often or too intrusively, which can often be the case if an author attempts such a style.
Overall, I enjoyed reading this, and will definitely jump on the next book when it appears in my mail. I know others were disappointed in it, but I'm really excited, because London in the 1600's is a really cool time to be shifting to. I don't really care too much about the romance elements of the story, because of my disbelief in their fanatical love, but I will be in it for the historical aspects. It's a difficult book to rate because of my dislike for the romance and some characters, but since I did really enjoy Deborah Harkness' style and her blending of history and the paranormal, it made a guilty pleasure book a little less guilty, and I will always be okay with that…. not that I believe in feeling guilty for liking to read such books!
3.7/5 stars