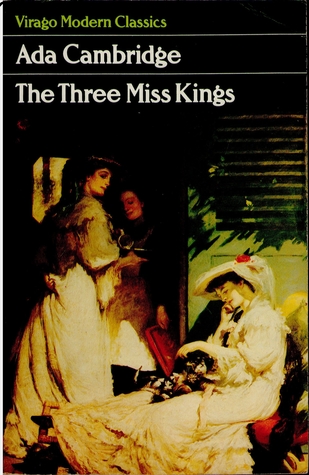 The Three Miss Kings – Elizabeth, Eleanor and Patty – were brought up in a remote seaside settlement in Victoria, Australia, their father a mysterious man of 'preposterous eccentricity', their late mother a dignified, accomplished woman who instilled in the girls an appreciation of 'spiritual and intellectual aspirations' which compensates for their lack of worldly experience. Such virtues serve the sisters well when, on the death of their father, they begin a new life in Melbourne. Under the watchful eye of one of society's more respectable patrons, they learn quickly about 'life, and love, and trouble, and etiquette among city folks' – to emerge radiant in their succession to both marriage and gentility. First published in 1891, The Three Miss Kings was one of Ada Cambridge's most popular novels, a delightful story of young women's gentrification in a colonial society still tied to the aspirations of its English forebears.
A friend of mine wrote part of her honours thesis on this novel, which is one I'd never come across before, despite having read quite a bit of colonial Australian literature. I was expecting it to have more of a "Little Mother Meg" vibe, but it was quite different.
I didn't find myself connecting with any of the three sisters until late in the book, when I decided that Patty was by far my favourite. At first, they had very similar personalities, which made them rather difficult to tell apart, but as the novel went on they became more distinctive. I'm not entirely sure if that was deliberate on Cambridge's part, but it worked well. Elizabeth became more of a doormat, Patty more feisty and Eleanor more insipid. It showed how money and romance can change a person and their outlook on life, which added to what was a great social critique.
I wasn't overly convinced of the romances, except that of Patty and Paul, who reminded me very much of Margaret and Thornton in North and South. I felt Yelverton and Elizabeth were odd, and Elizabeth became way too much of a doormat, to the point of allowing his exclusion of her sisters from her first childbirth, then saying nothing when he was challenged about it. Come on, lady!
The sisters are pretty much adopted by Major and Mrs. Duff Scott, the latter of the two being the pinnacle of Melbourne Society. I found her to be awful, and sincerely think that she should have backed off a lot earlier, particularly about Patty. She takes two years to decide that an engaged couple should be allowed to see each other, and repeatedly tries to marry Patty off to elderly dukes… Why anyone could want that for a young girl who already has money is beyond me, even if she has a fiancé you disapprove of. However, it is obvious that the girls had no hope of being accepted without her.
I particularly liked Paul, even though he was a grump. It seems he had the worst run of luck any man could have, poor bugger! As for the mystery that he helps solve, I worked it out very early on, which made the waiting game a tiny bit frustrating, but then satisfying when all was finally revealed.
The rooting of the story deeply into Melbourne in 1880 gave it such a character, which I loved. It specifically mentions events and personalities, such as Ned Kelly, which make it easy to pin the story down. Even the Melbourne Cup is attended, so any Australian would know that it is the first Tuesday of November. I really like that kind of detail in a book, especially when it's set in a place I'm familiar with. The 1880 Melbourne Exhibition also takes a starring role, opening the girl's eyes to the wonders the outside world can offer.
I liked the questioning of conventional religious thought, especially after having just read North and South, which also discussed religion as a key theme. They had quite different views, though both show people who do question authority and religion in a positive light. Sexual and gender politics are also explicitly dealt with, and Cambridge shows how jarring and strange those social rules are for a person who never had to adhere to them… It definitely showed the silliness of some of their social norms.
The narrator was quite funny at times, cutting in and embellishing the story. Sometimes I did want the explicit details they said we didn't need, which was disappointing, but most of the time they were a good narrator to follow. But overall, the narrative intrusions were amusing and stopped the story from being too sickly sweet.
I'd recommend this for anyone who liked Victorian literature (either the state or the era- this book has both!) and those who like Classic women's literature. It is a really interesting comedy of manners and class distinctions, which I found rather impressing. I'm gong to be keeping an eye out for Cambridge's other books in the future, and I do hope this novel gets noticed a bit more in the future. It's definitely up there with the best of Australian men's writing for it's era, and does truly deserve the recognition.
4/5 stars.