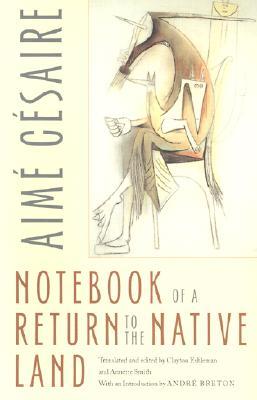 Aime Cesaire's masterpiece, Notebook of a Return to the Native Land, is a work of immense cultural significance and beauty. The long poem was the beginning of Cesaire's quest for negritude, and it became an anthem of Blacks around the world. With its emphasis on unusual juxtapositions of object and metaphor, manipulation of language into puns and neologisms, and rhythm, Cesaire considered his style a "beneficial madness" that could "break into the forbidden" and reach the powerful and overlooked aspects of black culture.
I had to read this for uni a few months ago, but for some reason this long poem has stuck with me. I did not expect to enjoy it, as I had flicked through it and really felt like it wasn't my thing at all, simply due to some of the language, but ended up being really impressed and moved by it.
Aime Cesaire was an extremely influential figure in Martinique's culture. This poem reflects his return to his homeland in 1939, as the title suggests, from an extended stay in France. Being a French colony, the natives were an extremely downtrodden people, who had been beaten and whipped into submission by the dominating French invaders. Cesaire describes their suffering in great detail, with many anecdotes of people who had been broken by their treatment over the years.
Cesaire's words have an amazing flow, especially when read aloud. My boyfriend and I are both studying in the same course, so we read the book aloud over the course of an evening, alternating pages as we went. This ended up being a fantastic way to read this kind of poetry, as you got a feel for the rhythm and musicality of the work. You can feel the words sliding off your tongue as smooth as silk, then edged with poison and bitterness.
I want to rediscover the secret of great speech and of great burning. I want to say storm. I want to say river. I want to say tornado. I want to say leaf, I want to say tree. I want to be soaked by every rainfall, moistened by every dew. As frenetic blood rolls on the slow current of the eye, I want to roll words like maddened horses like new children like clotted milk like curfew like traces of a temple like precious stones buried deep enough to daunt all miners. The man who couldn't understand me couldn't understand the roaring of a tiger.
He uses the language like some kind of glorious weapon, wielding it both in victory and in defeat. Over the course of the text, he shifts and stops and starts on his position, as if weighing up his options for his future and the future of his homeland. He aims to reclaim his "negritude", taking the word n***er and using it as an opposition to the way the colonisers have used it against his ancestors, as well as himself. In doing so, Cesaire believes he takes the evil out of the word, reclaiming it for his people, as well as all black people across the world. I found it difficult to read the word out, as I feel too averse to the usage of the word, but did it for the sake of the poetry's flow. It is an important aspect of the poem, but not the only one- Cesaire delves into the human condition on almost every page. Cesaire rejects the hate and violence inflicted on conquered people in all nations, which I did feel applied to the horrific history of Aboriginals in Australia.
We have much to learn from poetry like this. I think if he had rendered this work in any other way, he could not have got half the meaning and depth as he did. He breaks free of the rules of poetry, freeing himself to write in his gorgeous style, deeply reminiscent of the Caribbean culture itself.
I'm truly glad that I did read this poem. I'm undoubtedly going to revisit it in the future, because I absolutely believe that this is a work that should survive. We have still a long way to go, but every time there is a human like Cesaire, ready to be rid of the status quo, we as a species will evolve and grow.
4/5 stars
Beware, my body and my soul, beware above all of crossing your arms and assuming the sterile attitude of the spectator, for life is not a spectacle, a sea of griefs is not a proscenium, and a man who wails is not a dancing bear.