I really don't think anyone needs to read my favourite books in a list again- they're all over this blog, so just have a read through!
I thought it would be far more interesting to do something else, I decided to do my top ten favourite university text list books of the past 3 years, because sometimes you just have to give credit where credit is, due! Sometimes, a set text turns out to be really good, so I want to pay homage to those that I thought weren't soul killingly awful.
As usual, there's no particular order, other than the order I think of them in!
1. Billy Budd and Other Stories by Hermann Melville
I didn't have high hopes for this one, but ended up quite liking it. What was super frustrating was that I was the ONLY one in my class to have bothered to read the two short stories that were set. It still bugs me how few people could be arsed to read the thirty or so pages of Bartleby, the Scrivener.
Honestly, I would prefer not to be in a class like that again. If I am, I'll just slowly rot away in a corner.
2. Mrs Dalloway by Virginia Woolf
As much as I hate admitting it, Mrs Dalloway has grown on me… like an especially potent fungus. So much so that she's in my Honours thesis. Well done to my lovely Modernist lecturer and supervisor for undoing the work of my moronic high school English teachers. I don't think much of Mrs Dalloway herself, but Septimus and Rezia have my heart.
3. The Twelve Caesars by Suetonius
Need some ancient Roman comedy and scandal, a la Woman's Day? Look no further than the ever truthful *cough* Suetonius. This guy never let a juicy rumour pass him by or let the truth get in his way, which makes for hilariously terrible stories about the lives of the Roman Emperors. There's plenty of incest, murder, rape, grain, douchebaggery, money, horses, Caligula, Nero and more incest. Who believes it? Pretty much no one these days, but he's mostly the reason why people think certain Emperors were batshit insane (though many really were!)
4. Pygmalion by George Bernard Shaw
Just you wait, Henry Higgins! I hadn't read this play or seen My Fair Lady before I did a unit involving this. What's great about the play is that it doesn't have a Hollywood ending and you don't have to listen to Audrey Hepburn's atrocious attempt at a Cockney accent.
5. The Strange Case of Dr. Jekyll and Mr. Hyde by Robert Louis Stephenson
Small but potent is the name of the game for this book in every way possible. I did a unit on Victorian literature, and we had to study the animal in that, which involved this book and The Island of Dr. Moreau, which scared the ever living crap out of me. Needless to say, it was this book that I wrote my essay on!
6. The Blackwater Lightship by Colm Toibin
Colm Toibin isn't a big deal around here. I remember the look on the bookseller's face when I passed her my set list with his name on it, because she didn't understand what I was saying when I said his name. She couldn't even order it for me, so Ebay came to my rescue! I think since The Testament of Mary and Nora Webster have been around, he's more recognised, but at that point he was practically an alien. I'm so glad I had to read this, as I flew through it and loved every minute of it!
7. The Decameron by Giovanni Boccacio
I went hardcore and read it in both Italian AND English. I got major ticks from my dragon of a Medieval professor, so I was practically walking on sunshine for a month or so (until the next essay rolled around!) This book is scandalous as fuck. Who said the Middle Ages was boring?!
8. After Easter by Anne Devlin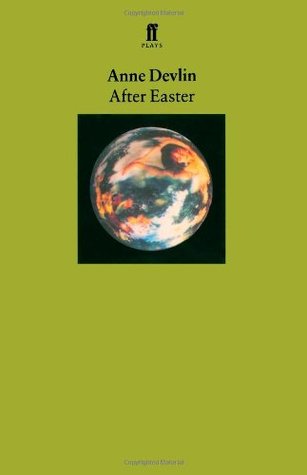 This play is a clusterfuck of crazy, but really, really deep. I really enjoyed it- so much so, I read it again and reviewed it here!
9. Mother Courage and Her Children by Bertholt Brecht
Oh lord, this play kills me. It's so horrible, but at the same time it's fascinating. It's certainly a different kind of play and I imagine it would be difficult to actually stage. I really loved it's discussions of what makes motherly love true and about how ethical war profiteering is. It's really quite depressing, but I'd definitely recommend it.
10. Australians: Origins to Eureka by Thomas Keneally
More widely known for writing Schindler's Ark/ Schindler's List, Keneally also writes about Australian history. You can really tell that he loves his history in his novels, as their research is flawless. I read Daughters of Mars and knew all the background historical info, and while he had fictionalised it, I could tell what specific events he was talking about. This particular book is part of a set, but as this is my favourite part of Australian history, I've chosen this one to represent the whole shebang!
And yes, this is basically what an Australian university looks like. Every single philosopher is called Bruce.
…Just kidding.