Reading Ireland Month is being run by by Cathy746Books and The Fluff is Raging and is affectionately known as the Begorrathon. This month, bloggers unite to read and review a range of Irish literature, film and music in celebration of Irish culture! What better way to spend St Patrick's Day (and month!) than having a great time with Irish lit?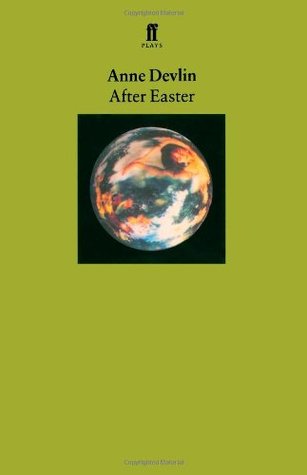 After Easter examines the personal and social backgrounds of Northern Irish citizens living in Ulster and on the British mainland. The play is not political, more psychological and humorous, offering a contemporary portrait of a woman who reaches an important turning point in her life.
I had to read this play last year for a "Reading Ireland in the 1990's" class, which I ended up really enjoying, despite my reservations about the set list. Since it's now Reading Ireland MONTH, I thought I'd revisit this little play.
As many people know, Northern Ireland was rocked by The Troubles in the latter half of the 20th Century. By the 1990's, things were beginning to calm down, but the threat of further outbreaks of violence was always imminent. To this day, Belfast can become turbulent very quickly.
After Easter is set in the midst of this turbulence. The play mainly focuses on Greta, a Catholic woman who has been living in England for some years. She's come home to Belfast due to her marriage being on the rocks and her father being ill- a direct connection to the struggles of Northern Ireland to steady itself.
Greta is emotionally and mentally unbalanced throughout the play. Her struggles come to a climax when she believes herself to be the Virgin Mary and attempts to distribute communion wafers to the bus queues.
This play has some really heartfelt scenes, particularly in the final act. There's also a sense of impending danger, particularly in Belfast where there are bombs discussed and a nerve wracking scene with the police. While it's only short, Devlin has packed a hell of a lot of themes and subplots in here, making this play a little different from every angle.
I quite enjoyed it, as there's a really mysterious quality about what's really going on with Greta. One reviewer seems to believe that she drove her husband away, thus "quite rightly" making him unfaithful, but I disagree. I think her failing relationship made her unstable, plus I think she acts as a foil for Ireland itself. If you look at it from the perspective that Greta's husband represents England and she represents Ireland, you can really see how this relationship stretches through human connections to a wider political, religious and social dimension.
I'd definitely recommend giving this play a read, especially if you're interested in Irish theatre. I'd love to see this performed one day, and think it would make a great movie if someone ever did it! I think that it's a great play to read from different angles and perspectives, and Greta is a really fascinating and enigmatic main character.
3.5/5 Stars