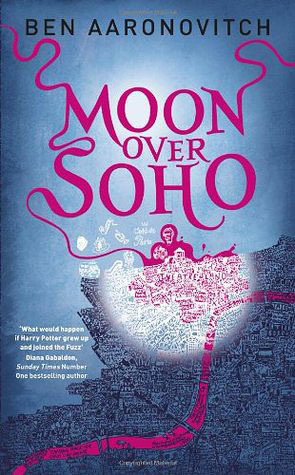 The song. That's what London constable and sorcerer's apprentice Peter Grant first notices when he examines the corpse of Cyrus Wilkins, part-time jazz drummer and full-time accountant, who dropped dead of a heart attack while playing a gig at Soho's 606 Club. The notes of the old jazz standard are rising from the body—a sure sign that something about the man's death was not at all natural but instead supernatural.
Body and soul—they're also what Peter will risk as he investigates a pattern of similar deaths in and around Soho. With the help of his superior officer, Detective Chief Inspector Thomas Nightingale, the last registered wizard in England, and the assistance of beautiful jazz aficionado Simone Fitzwilliam, Peter will uncover a deadly magical menace—one that leads right to his own doorstep and to the squandered promise of a young jazz musician: a talented trumpet player named Richard "Lord" Grant—otherwise known as Peter's dear old dad.
I read and loved Rivers of London a few weeks ago and really wanted to jump into the second book in the series. It actually took me 10 days to read this, which is shocking for me, but it was due to a few things beyond my control. The fact that the pacing and storyline of this book didn't force me to give up whatever I was supposed to be doing didn't really help!
I did really enjoy this book, don't get me wrong… it's just that compared to the first book, this one has an odd mixture of story threads which didn't quite work for me. Both the main story and the side story competed for attention, giving this book a wonky kind of feel to me.
I have a feeling that where the first book introduces the characters and magic system, Moon Over Soho is setting up for a dramatic sequence of events in future books. If that's the case, the next book is going to be supercalafragilisticexpialadocious. The new evil magician thing is bonkers, as are some of the new magical creatures introduced in this novel!
I liked that Peter had some really human reactions to some of the crazy, awful stuff that went on. He's having  bad dreams and flashbacks, which made him seem so real, especially considering some of the things he's seen in the line of duty recently. Also, the injuries Nightingale and Lesley suffered at the end of Rivers of London have real and lasting consequences too, which can't just be magicked away… it adds a further element of realism to the story.
I'm so glad that Lesley is back- she's so fun and lovely. I feel so awful for her, but she's managing to still stay sassy and keep Peter down to earth. I love the way Lesley and Peter's relationship is progressing, it feels lovely. I totally didn't expect the ending! I'm really excited to see where her character ends up!
I also loved the Irregulars! I really hope they stick around! Jazz vampires, be afraid, be very afraid…
The other quibble I had with this one is that there's quite a bit of sex. I'm no prude, I like the odd sex scene, but did we really need to get so many scenes of Peter and Simone doing the nasty? It got kind of repetitive.
I didn't particularly like Simone, but that's just because I didn't trust her. Because there's such an element of unseen threat running through this book, you really don't know who to believe. I didn't like her from the get-go, which wasn't exactly fair, but that's all I'm going to say on the matter!
Overall Moon Over Soho was an enjoyable and action packed book, hopefully setting up for the next book. It has a darker tone that Rivers of London, which worked in it's favour. I still laughed along with Peter and enjoyed the witticisms throughout the book! I'll definitely be continuing this series!
3.75/5
Buy from The Book Depository