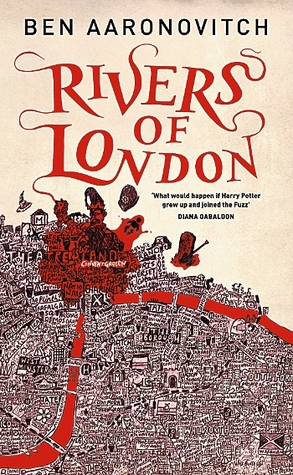 "I used to be probationary constable in that mighty army for justice known to all right-thinking people as the Metropolitan Police Service, and to everyone else as the Filth…"
Meet DC Peter Grant. He will show you his city. But it's not the capital that you see as you make your way from tube to bus, from Elephant to Castle. It's a city that under its dark surface is packed full of crime. And of magic. A city that you never suspected…
Gran't story starts when he tries to take a witness statement from a man who was already dead. And take him down a twisting, turning centuries' old mystery that reckons to set London on fire…
Okay guys… the long and short of it is… ohmygodwhatareyoudoinggetyourhandsonthisbook.
THIS is what I wanted Neverwhere to be. THIS IS IT GUYS.
I really liked Peter, he was a great protagonist. He was fun to follow around- not super clever but not so stupid that he could make me really annoyed. He's a total every man, who got thrown into an absolutely insane situation, but kind of one that was really cool… I mean, who doesn't want some random wizard telling you you have magical powers?! I love that he plays with his magic and is really eager to learn, because I really want to learn with him. I also loved that his reaction was so very human: "Fuck me, I thought. I can do magic".
I also LOVED the character of Nightingale. I totally pictured him as a super suave, top and tails man. I'm so excited to get further into his character and find out more about him, as well as the magic system in this series.
I probably could have done without the vague romance, but since it wasn't really a huge aspect it was okay. Straight away I felt like I didn't want Peter and Lesley to get together- not because I don't like them, but because I really wanted a crime fighting male/female duo without the romance… I'm still in recovery from the later seasons of Bones. It was why I really liked the relationship of Robin and Cormoran in The Cuckoo's Calling. 
I also found this book to be laugh out loud funny at many points. I don't do that all too frequently, so it was pretty good. I really, really enjoy British humour, so that's definitely part of it.
"Being a seasoned Londoner, Martin gave the body the "London once-over" – a quick glance to determine whether this was a drunk, a crazy or a human being in distress. The fact that it was entirely possible for someone to be all three simultaneously is why good-Samaritanism in London is considered an extreme sport – like BASE jumping or crocodile wrestling."
The setting of London here is so well done… I always find it fun to be able to pinpoint where things are, especially when I've been there. I got super excited because I bought my favourite notebook from the Paperchase in Covent Garden, which got briefly mentioned. You Brits are so lucky, by the way… Paperchase is a true gift from the gods of stationery. I got a notebook with CRAYFISH on it for heaven's sake!
I wish I'd read this book earlier, I can't believe it's been out since 2011 and I've missed it! I'm pretty sure I'm going to devour the next book soon, then most likely the rest of the series. I'm hoping my favourites make a comeback and stay awesome… please, please don't let me down!
5/5 Stars and Leo.
Buy from The Book Depository