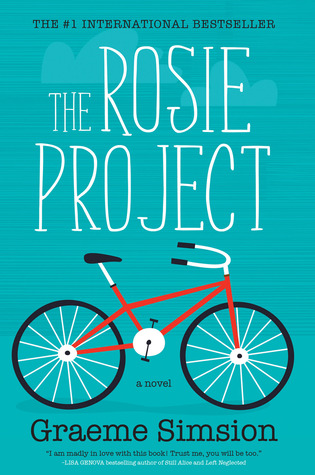 Don Tillman 39, Melbourne genetics prof and Gregory Peck lookalike, sets a 16-page questionnaire The Wife Project to find a non-smoker, non-drinker ideal match. But Rosie and her Father Project supersede. The spontaneous always-late smoker-drinker wants to find her biological father. She resets his clock, throws off his schedule, and turns his life topsy-turvy.
This book was a lot of fun!
I felt like it started off slowly, I didn't really think much of it until the last half, at which point I flew through it and really saw why people have been raving about it so much.
I ended up really liking Don and really wanted the couple to end up together- I knew they would, since there's a sequel, but still… I was looking forward to it. I really enjoyed watching Don's prejudices breaking down and see him questioning his feelings, learning how to behave and show how he felt. I really felt for him when he would get confused over what aspect of social interaction he'd misunderstood. But… of course he had to look like Gregory Peck and have great abs… he couldn't just make Rosie like him for his brilliant mind. No no, we must be ripped and gorgeous to make up for the Aspergers. That was pretty much the only thing that really bothered me about Don's character.
I didn't quite understand why they ended up having Rosie become a doctor… I get that she wanted to follow in her parent's footsteps, but she was already a psych PhD, is that not enough proof that she's clever? But again, I loved that she ended up being so totally different to what Don thought she was, and totally different from your stock standard romantic comedy interest.
Yes, Don is a completely cliched version of someone with Aspergers… knowing people with it, it really isn't that adorable and fun, and certainly doesn't necessarily mean you're some kind of science wiz. Don is cliched like Sheldon Cooper is cliched, and if you go into reading it in that way, it's not so bad. I don't think it does much for Aspergers awareness, but that isn't what the author set out to achieve. I certainly didn't laugh at Don, but found his mindset fascinating and the situations he found himself in amusing.
I always like having a major book set in my country, but I really wish they'd put the soul of Melbourne in there…it would have been a perfect opportunity to showcase a really gorgeous and eclectic city. Really, this could have been set anywhere- it had no Australian flair. I imagine this will make it far easier to sell the film rights to a Hollywood studio, who will promptly plonk it in San Francisco or something, but that is always the danger for books being made into films.
I ended up really enjoying The Rosie Project and have got the second book sitting on my Kindle… i'm not in a huge rush to begin it, but I might in the next few months. I'm interested to see how Rosie copes with the solution to The Father Project and what's happened to Gene and Claudia, who I really liked.
4/5 Stars